Description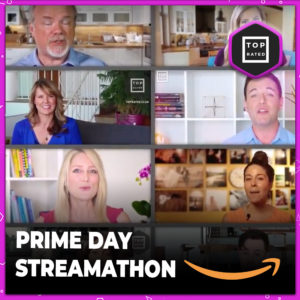 ALMOST SOLD OUT – 8 SLOTS AVAILABLE
Boost your sales this upcoming Prime Day with our Prime Day Top Rated Live shows.
We will help you gain thousands of product impressions in these crazy two days and help convert this amazing traffic into buyers!
Think of all the OTHER products that will feature live shows on their product listings! Don't let them convert better than you! Lock your spots in our shows to make sure customers end up buying YOUR product!
You will be featured 10 times throughout our streamathon where we will be streaming Live to Amazon show after show, hour after hour!
Each show features 20-40 Top Rated products we recommend buying during the two prime days. A show typically runs for about an hour, with your product featured in the Top Rated products carousel under our Live Stream feed-in Amazon Live, on your product page, and in many other related product pages as well!
We have a few minute segments where we display your product and highlight its benefit in each show. We also answer questions live and highlight any special coupon code you have for Prime Day.
You will receive 5 streams on day 1 of prime day, and 5 streams on day 2.
Now, this is what we call an amazing promotion!
Don't miss this amazing opportunity to book your spot in our Prime Day Streamathon shows!
Slots are very limited and we are already at 70% capacity with our current brands.
Every day is crucial right now as time is running out.
To participate in our extravagant Prime Day streamathon, make sure you order the service TODAY by checking out right now.
Our reps will contact you within 24 hours to confirm your placement and schedule.
Let our amazing talents boost the sales of your product this upcoming Prime Day!
For more information, contact us anytime.